Welcome to Forefront Productions. Based in Newark-on-Trent, Nottinghamshire, we provide a complete service within the entertainment and events industry. We offer:
Full audio/visual production for concerts & small festivals, conferences, fashion shows, product launches and more;
Equipment rental - dry hire or engineered, with backline also available;
Live audio recording available at your event;
Full UK coverage, though our East Midlands location means we can offer a particularly punctual service within Nottinghamshire, Lincolnshire, Leicestershire, Derbyshire and South Yorkshire.
Whatever your budget we can provide a sound system and/or lighting rig for your event.
For a convenient, discreet setup for smaller events we carry the HK Lucas Nano PA systems, both the 300 and 600.
Very small and lightweight for ultra-portability;
Retains big sound due to active subwoofer;
Satellite speakers sit atop microphone stands (supplied) or can stack directly onto the sub;
Ideal for small acoustic gigs or presentations etc;
3-channel mixer built into sub: dedicated mic input plus two stereo channels;
Dry-hire prices/day: Nano 300 £50; Nano 600 £75; each including SM58 microphone
Please call or email for a quote or to discuss your requirements.
News
Nottingham CAMRA Robin Hood Beer Festival 2010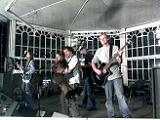 14 - 17 October - Nottingham CAMRA Beer Festival returned once again to the castle. The bandstand played host to a plethora of music for the duration of the festival.
See the Nottingham Beer Festival website for details.
The UK Motorhome & Caravan Autumn Fair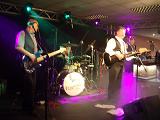 3/4 September - The UK Motorhome & Caravan Autumn Fair, Newark Showground. Two evenings of entertainment in the Cedric Ford Pavilion, courtesy of Event Developments Ltd.

Go to the UK Autumn Fair Entertainment page for full details.
Newark Beer Festival 2010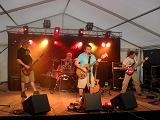 The 15th Newark Beer Festival ran from 28-30 May 2010.
This year's entertainment comprised bands mainly from the Newark area. The exception being our old friends Haze (Treebeard in disguise, for those who don't know!) who hail from Sheffield.
Once again we supplied the complete entertainment stage sound & lighting package.
Newark Jazz Festival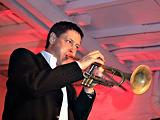 Newark Jazz Festival makes a welcome return to the town on 21/22/23 May. We shall be supplying PA and lighting to two of the premier venues chosen for this prestigious event.
Highlights of the Festival:
Two evenings of fine wines, food and music in the courtyard of Ann et Vin, Castlegate, Newark: Friday 1pm - Chris Saunders; Saturday 12pm - Jeff Barnhart Solo; 6pm - Ivory & Gold; 10pm - BARNHART-HALLAM QUARTET; Sunday 2.30pm - TIM KLIPHUIS TRIO feat. DAVID NEWTON; 9pm - TJ JOHNSON AND HIS BAND
Barnbygate Methodist Church performances: Friday 6pm - ENRICO TOMASSO SEXTET; Saturday 2pm - CURIOS; Saturday 6pm TIM GARLAND & THE HOT HOUSE BAND
Many more events taking place in and around Newark over the weekend. Full details at Newark Jazz website
UK Motorhome & Caravan Spring Fair 2010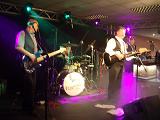 The UK Motorhome & Caravan Spring Fair is a superb show for motorhome and caravan owners, taking place on Saturday 27th & Sunday 28th March 2010 at Newark Showground, Newark-On Trent, Nottinghamshire (Just off the A1).
For weekend campers, the Cedric Ford Pavilion will once again host two evenings of entertainment.
Friday:
Country DJ & Broadcaster 'John Morris'
The Blueprint Blues Brothers International Tribute Show
Award-Winning International Magic Artiste Jonathan Shotton
Saturday:
Country DJ & Broadcaster 'John Morris'
Comedian Martin Gold
The UK's Finest Country Music Band West Virginia
See UK Spring Fair website for full details.
'Society' event in place of worship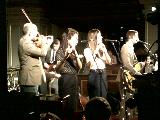 25 November 2009 saw the final gig of 2009 by The Leisure Society. Held in St. Giles in the field church, close to Tin Pan Alley (Denmark St.) London, we were engaged by Daybrook House Promotions to provide full PA and some simple wash lighting for the event.
In its most basic form, The Leisure society comprises seven members; though on this occasion there were an additional two guest instrumentalists and a four-piece choir to boot. Instruments ranged from guitar, bass and drums to Rhodes piano, flute, violin, cello and multiple ukeleles! Guests added pedal steel guitar and a further flute.
Church buildings never bode well on the acoustics front; however, being a total sell-out, the full house damped things down nicely.
A review of the gig with photos can be seen here. The Leisure Society's MySpace page here.
Nottingham Robin Hood Beer Festival: 8 - 11 October 2009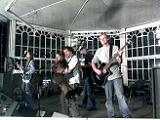 Following the move from its former regular venue at the Victoria Leisure Centre - which served it well for many years - to the magnificent surroundings of Nottingham Castle, it's not only the festival name which has been enhanced (by the addition of the name of a certain legendary outlaw); but the entertainment schedule at Nottingham CAMRA's Beer Festival has also been given a well deserved boost, now offering a full programme of music, comedy and dancing throughout the weekend.
After our success in providing both sound and lighting for the entertainment stage at the Newark CAMRA Beer Festival in May (see below), Nottingham CAMRA's social secretary Ray Kirby has engaged Forefront Productions to look after all of the bands performing at the Notts festival.
This year's festival is the second to be held at the Castle. In the first year, the bands were left pretty much to their own devices, the outcome of which meant the PA and lighting equipment were of "variable" quality with the overall production failing to do justice to the performances as a result.
Entertainment Line Up.
Thursday
18:00 - 4am Forever
21:00 - Bluejaks
Friday
18:00 - Boatrockers
21:00 - Vampire Cowboys
Saturday Afternoon
     - Nottingham School of Samba
     - Foresters Morris Men
     - Greenwood Cloggers
Saturday Evening
16:00 - Last Pedestrians
18:00 - Sore Point
21:00 - Treebeard
Go to Nottingham CAMRA Website.
Newark Comes Alive - on the 10th July 2009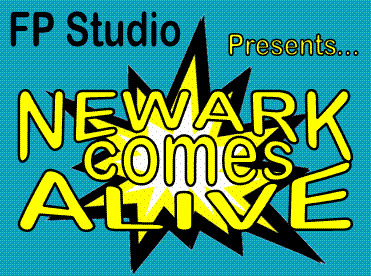 Well ain't it about time?
We at Forefront Productions have been on the go as a business for over three years now and in that time the promotion of Newark's considerable musical talent has been somewhat limited. But please don't blame us - we're not in business as event organisers or promoters, we simply hire out our kit and expertise to those who are.
Having taken over operation of the recording/rehearsal studio (formerly operated by the Crisis guys who did a most excellent job, by the way) which we imaginatively named "FP Studio", at the beginning of 2008, we have developed relationships with many bands in the area and recognise the difficulties they have in staging gigs which will be attended enthusiastically by their friends, families and fans. So we've finally decided to have a go ourselves.
So what's different about Newark Comes Alive? Well, for one thing - the ticket fee...
Now, let's not be misunderstood here. Much respect to those - not least the Crisis guys and N&SDC - who have put on showcase events before: band nights, gig nights, jam nights, open mic nights - and with mostly free entry to the public. Alas we at Forefront need to cover our costs and as we don't have the resources to stage events at premises owned by ourselves: be it open air parkland or a town centre theatre, we've looked at what commercial premises - themselves in need of support of the paying public - are available to stage a similarly commercial event. As such, we have to charge a ticket price to cover our costs; but on the upside, it means the bands themselves get rewarded financially for their performances, which must be a good thing!
In our first foray into such teritory, we decided that Newark Working Mens Club has the perfect combination of facilties to host such an event.
Accommodating up to 200 revellers, the venue has a decent stage, licensed bar served in the main concert room and best of all from our perspective: ground level access!
Appearing on this first occasion we have: Jacket Natural Born Boogie; Machine God; Monnika; Cellar Records; The Would Be Assassins.
Tickets are available from band members priced at £6 - that's a mere £1.20 per band! Entry for non ticket holders will be £7 on the door subject to there being spare capacity. Under 18s must have adult supervision. Doors open 6pm, last band finishes 11pm and curfew at 11:30pm.
So let's have some enthusiastic support from all you music lovers and help make Newark Comes Alive a success for all concerned.
Newark Beer Festival XIV
The 14th Newark Beer Festival runs from 22-24 May 2009.
In addition to our usual stage lighting offering, this year we shall also be providing PA for the eclectic line up of musical entertainment.
This year's running order as follows (times may be subject to change):
Friday 22nd
15:00 Quiz with Mark Taylor
18:30 Soundtrack of Yesterday
20:30 Treebeard
Saturday 23rd
15:00 Quiz with Mark Taylor
16:00 Nimming Ned
18:15 The Framed
20:30 Something Nasty in the Woodshed
Sunday 24th
14:30 Quiz with Mark Taylor
15:30 Natural Born Boogie
Go to the Newark CAMRA website.
The Big Night Out 6
Big Day Out @ Melton Mobray Working Men's Club 3th & 4th April 2009, 6PM till Late.
Bands Friday: Voodoo Johnson, Breek, Useless Wooden Toys, Smoking Kills, XMA, Haich, Twisted Whistle.
Bands Saturday: Lounge Fly, Vultures, Ictus, The Fuss, Lux Mundi, Indigo Slam, Box Theory.
£6 in Advance or £8 On the Door.