Welcome to Forefront Productions. Based in Newark-on-Trent, Nottinghamshire, we provide a complete service within the entertainment and events industry. We offer:
Full audio/visual production for concerts & small festivals, conferences, fashion shows, product launches and more;
Equipment rental - dry hire or engineered, with backline also available;
Live audio recording available at your event;
Full UK coverage, though our East Midlands location means we can offer a particularly punctual service within Nottinghamshire, Lincolnshire, Leicestershire, Derbyshire and South Yorkshire.
Whatever your budget we can provide a sound system and/or lighting rig for your event.
For a convenient, discreet setup for smaller events we carry the HK Lucas Nano PA systems, both the 300 and 600.
Very small and lightweight for ultra-portability;
Retains big sound due to active subwoofer;
Satellite speakers sit atop microphone stands (supplied) or can stack directly onto the sub;
Ideal for small acoustic gigs or presentations etc;
3-channel mixer built into sub: dedicated mic input plus two stereo channels;
Dry-hire prices/day: Nano 300 £50; Nano 600 £75; each including SM58 microphone
Please call or email for a quote or to discuss your requirements.
News
Stoke Rochford Lighting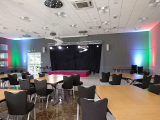 Since the early part of last year Forefront Productions has been providing lighting for a series of events in The Venue at Stoke Rochford Hall.
Employing a simple backdrop adorned with LED colour changing PARs, the otherwise plain back wall is further enhanced with the addition of corner uplighters.
Inclusion of an LED theatre spot as a front wash for the artists completes yet another simple but effective setup.
Soft wash at Kelham Hall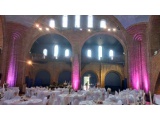 Simple but effective!
Forefront Productions was asked to provide some colour for a client's midweek wedding celebrations. The sumptuous surroundings of The Dome at Newark's Kelham Hall formed the venue, however the brick interior presents a somewhat harsh visual experience.
By placing our LED uplighters at the base of each of the columns, the chosen wash colour (light pink in the photo) helps to soften the appearance.
Newark Beer Festival 2015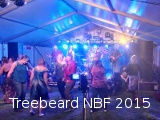 Newark Beer Festival took place as usual over Spring Bank Holiday weekend, 22 - 24 May and once again Forefront Productions provided the entertainment stage, PA and stage lighting.
A full lineup of bands performed over the three days including Beer Festival stalwarts Treebeard (pictured) headlining Friday evening, this being their 6th appearance at the Newark event.
Warhammer World Installation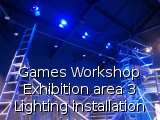 During March/April of this year Forefront Productions was commissioned by gaming giants Games Workshop, Nottingham to specify and install the effect lighting and sound effects system for their Warhammer World Experience Mega Display diorama in exhibition room 3 at their Lenton premises.
The entire lighting installation was realised using an array of 20 LED PARs equipped with barn doors, mounted on scaffold bars suspended from the roof steels.
Control of the lighting was via standard DMX from a conventional fixture controller programmed to fade a sequence of colour washes on a repeating cycle
The sound effects along with a specially commissioned music track were mixed down to a 6-channel surround system played from a Mac Mini through a multi-channel interface. An equipment rack containing the interface, matrix mixer and an array of amplifiers was built by Forefront Productions, delivered to site and all speakers and cabling installed by us. A subwoofer was also included to assist with the low down explosions and rumbles.
The entire installation was carried out at a very low price point, being around one-third of our competitors' quote.
Nottingham Beer Festival 2014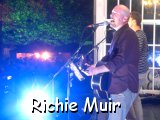 Forefront Productions were once again invited to provide PA and lighting for the Nottingham Camra Robin Hood Beer Festival entertainment on the Victorian bandstand in the delightful surroundings of Nottingham Castle.
The lineup this year consisted of: Wednesday - Euler; Thursday - No Fixed Abode, Booba Dust, Broken Mandarins, Acoustica; Friday - Mark James, Under the Covers, The Freefall, Richie Muir (pictured), Stagefright; Saturday - Phil Knight, The Pesky Aligators, The Dave Simpson Trio, Lord Ha Ha, Treebeard.
Newark Beer Festival 2012
Once again, Forefront Productions will be proving PA, lighting and this year for the first time, staging for Newark Camra Beer Festival entertainment.
This year's entertainment lineup is as follows:
Friday 25th May
3pm - 3:30pm QUIZ
Brain teasing time again with resident "brainiac" Mark Taylor.
8:30pm - 10pm THE MACHINE SHED BAND
The Machine Shed Band are a Cambridge based "Rock" "Blues" "Soul" and "Boogie" band with many years' experience playing pubs, clubs and festivals up and down the country. The four piece consists of Russ Squires - bass, Doug Martin - vocals, rhythm and slide guitar, Dave Keeling - guitars, keyboards and Simon Martin - drums. www.machineshedband.com
Saturday 26th May
2pm - 3pm GUY MAILE
Singer/songwriter Guy Maile makes a welcome return to Newark and the Festival having appeared here way back in 2007 but has very much kept in touch with regular appearances at the Fox and Crown in Newark. With a mix of original songs and classic covers from the likes of Bob Dylan, The Police and Pink Floyd Guy's smoky vocals and beautiful acoustic guitar sound are well suited to any drinking establishment.
3pm - 3:30pm QUIZ
Time to shake up those brain cells once again with today's instalment
4pm - 5:15pm HOLD THE LINE
A classic rock covers band that originally started out as Natural Born Boogie and played the festival 2 years ago under that guise. Re-formed in July 2011, the band cover material from the 1960s onwards and consist of Dave on guitar and vocals, Slick on lead guitar, Graham on drums and Annie on bass and backing vocals
6-15pm - 7:30pm PARKER
A four piece covers band from Nottinghamshire/Derbyshire, they have a very diverse set list, covering such artists as The Rolling Stones, The Clash, Red Hot Chilli Peppers, Queens of the Stone Age and the Beatles. If you like your performances gritty, rockin' and with attitude, don't miss these guys. Guitarist Dean is a regular face at the festival, last time performing with the band King-Size Operator who completed a short tour in America, so there is plenty of quality and experience in this line-up.
8:30pm - 10pm THE ALMABOOBIES
Making a welcome return after last year's amazing headline, 2 dynamic sisters, plus one guy rocking out together are now breathing new life into female fronted rock, ignoring stereotypes and peer pressure on the way, Victoria and Elizabeth Ellis along with local lad John Joe Gaskin on drums, blend urgent bittersweet harmonies with power chord driven rock, with over 700 gigs under their belt you will not appreciate them until you see them live and let them show you that GIRLS ROCK HARDER THAN THE BOYS. www.thealmaboobies.com
Sunday 27th May
12:15pm - 2:30pm THE BRIDGE STREET STOMPERS
An ever revolving group of likeminded international musicians playing Dixie land jazz and popular tunes from the twenties and thirties, they take their name from the town Centre Street here in Newark where they often busked, weather permitting at lunchtimes and weekends
2-30pm - 3pm QUIZ
Your last chance to win a gallon of beer with today's brain teasers
3pm - 4pm THE BRIDGE STREET STOMPERS
More from "The Stompers" to wind down the festival and send you merrily home with your feet still tapping and a tune in your head.
SconceFest 2011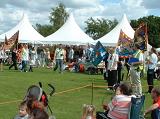 We shall be providing our stage and PA for the SconceFest event taking place on Sconce Park, off Boundary Road, Newark on Sunday, 10 July 2011.
This annual event is held at the culmination of the Newark Carnival, with attractions for the whole family.
Acts appearing on stage:
15:00 Cellar Records - Newark Band "We play a fusion of Rock, Blues and Funk with a Pop sensibility"
15.30: AJ's Dance
16.00: Glee Club
16.10: Melissa Allenby (Newark's Got Talent winner 2010)
16.30: Ukulele Band of Newark
17.00: Indigo - Party covers band
17.30: Event Close (Subject to above running to time)
Newark Beer Festival 2011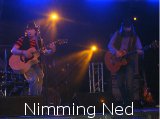 Newark Beer Festival took place as usual over Spring Bank Holiday weekend, 27 - 29 May and once again Forefront Productions Ltd provided the PA and lighting for the entertainment stage.
A full lineup of bands performed over the three days:
Friday:
Five piece blues/rock covers band True Lies kick off procedings this year with a stunning set.
Making a welcome return from their cracking 2009 appearance and now with an expanded line-up, infectious folk band Nimming Ned will have you singing and laughing and maybe even dancing - if the beer hasn't already had that effect!
Saturday:
Newark Beer Festival regulars performing an unusual early-doors set this year Treebeard is back with a vengeance.
Four piece blues/folk/R&B band The Unusual Suspects make a long awaited return after a lengthy absence from the festival.
Headlining the Saturday line-up, leather-clad girl outfit The Almaboobies will have your socks rocked off as they make their maiden appearance. Watch out for that Alexandra sort on drums though ;)
Sunday:
Electro-Goth Gina Stone makes a first appearance at this year's festival. Having received play time on several of the BBC's regional Introducing radio shows, Gina's talent is not to be missed.
Jazz et Vin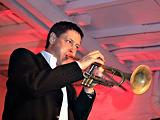 A weekend of jazz returns to Ann et Vin in May.
Saturday 21 May will see The Barnhart-Hallam Quartet. Mr Fine and Mr Dandy celebrate the rich history of great jazz tunes! 10.00pm 'til late.
The Tim Kliphuis Trio with David Newton. Grappelli-style violin - plus the UK's top jazz pianist! Sunday 22nd May, 2.30pm.
Vocalist Iain Mackenzie and The High Spirits Quintet Featuring Alan Barnes (saxes), David Newton (piano), and Nathan Bray (trumpet). High-class swing and a fabulous voice! Sunday 22nd May, 8.00pm.
All tickets £15 OR see all three gigs for just £35! Concessions for U16s and parties of 10 or more. Speak to us.
Tickets: from Ann et Vin, 23 Castlegate, Newark NG24 1AZ
T: 01636 700900 E: info@annetvin.com.
For more information visit www.annetvin.com
UK Motorhome & Caravan Spring Fair 2011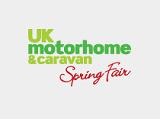 The UK Motorhome & Caravan Spring Fair is a superb show for motorhome and caravan owners, taking place on Saturday 26th & Sunday 27th March 2011 at Newark Showground, Newark-On Trent, Nottinghamshire (Just off the A1).
For weekend campers, the Cedric Ford Pavilion will once again host two evenings of entertainment.
Friday:
Comedy Impressionist Drew Cameron As seen on Britain's Got Talent
After The Break Duo featuring Grammy nominated Soul vocal & instrumentalist Roy Carter
Saturday:
Comedy Stage Hypnotist Adam Night
European Champion Elvis Tribute Rob Kingsley "A Vision of Elvis"
See UK Spring Fair website for full details.